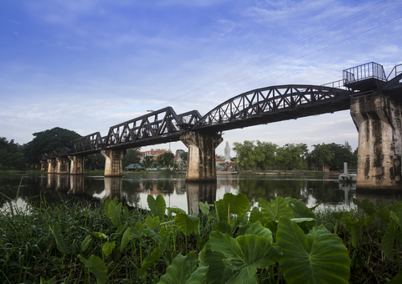 Bridge on the River Kwai
During WWII, the Japanese prisoners of war for the construction of the famous railroad called death railway that runs along the River Kwai Noiriver. The railroad continued until the three pagodas pass, but it has been destroyed. Burmese and Thais agreed to destroy the tracks from the common border and 100 km into each side of the countries. There is an agreement that the road between good friends and best enemies are short.

Thousands of prisoners and forced labourers died while the railway was built due to the extremely brutal treatment that the Japanese inflicted on them. About 16,000 allied prisoners of war and approximately 100,000 Asians died of disease or the torture that they were subjected to during the time the railroad was built.

Bridge Over the River Kwai in Thailand is a metal bridge and it stands as a memorial for all those allies and POWs the Japanese subjected of the Second World War. Bridge on the River Kwai was bombed several times in 1945 and rebuilt after the war ended. As a paradox may be mentioned that two of the bridgeheads were manufactured in Japan after the war and during the reconstruction.

The first week of December every year light and sound is shown at the bridge. This is done in remembrance of the allied bombing of the bridge and the show is an imitation of the bombing produced through light and light.