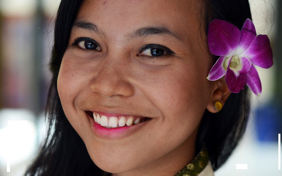 Time difference:
Swedish time +6 hours.
(+5 Hours Swedish summer)

Population:
approx 66 million of which 20 are expected to stay in the capital, Bangkok

Language: Thai

Currency:
Thai Baht (THB). 100 = 412.03 THB (April -13).

Key exports:
Computers, plastics, rice, tapioca, rubber, textiles, electronics, shoes and toys

Electricity: 220V, 50Hz, adapter needs

Climate:
Warm all year round and with high humidity hottest period is the month of April
Life expectancy: Women 72 years old and men 65
Ethnic groups:
75% Thais, 11% Chinese, 3% Malays, 1% Begsfolk and other 10%

Tourism:
The number of tourists visiting Thailand each year is estimated to be around 9 million per year

Size and population:
Thailand extends across more than 513 000 square kilometres and has about 66 million inhabitants, of which about 15 million live in the capital Bangkok. It's not a myth that the country is sometimes called "The Land of Smile" You'll see why at your next trip to Thailand.

Travelling with Children to Thailand:
Travelling with children to Thailand is very easy! Thais love children and it is simply because the children are their pension in the future. It's not at all uncommon for Thais borrow your kids for a while, and they do it with joy. You will notice it at the airport in Bangkok that the kids are not in the way for Thai people their patience is amazing when it comes to children. It's not at all uncommon for passport controllers to release everything he has in his hands and begins cuddling with kids. That there are 100 people waiting in the queue is less important. Do you have blonde children, these little princes and princesses is highly valued, perhaps because the Thais have no children themselves with blonde hair. They will be extra excited if you have what we call "lintottar" as children! You will discover many smiles and they will try to get your child's attention.

You will notice on your child's way of behaving during your stay, the children feel welcome and you will feel it in the atmosphere and in your child's mood. You hear from many families that it is easy to travel with children to Thailand, there is absolutely no myth that it is that way. You will not be disappointed nor will your children who gets all the attention as they could possibly get during the trip. It can also be a bit tough for the kids to always be recognized and cuddled with.

The kids are great ice breaker and there are very many children who have opened doors into the Thai daily life. To summarize, you need not be worried about the children to enjoy their stay in Thailand. On the contrary, you should instead be worried about your children drink enough fluid to cope with all playing that will come during your stay in Thailand.


acclimatization
Thailand is a tropical hot country and it's humid air. Bangkok is officially named as the world's hottest capital city with its 17 million inhabitants. Temperatures usually hover around 30 degrees. Sounds perhaps not so much because you're used to hearing it's really hot, but 30 degrees in Thailand feels much hotter than 30 degrees at home. The humidity is high, it is 60 to 85%. It is sticky and sweaty, but very wonderful if you like heat. Take it easy at first, drink lots of water so you do not become dehydrated and please book accommodation with air conditioning if you are sensitive to heat. More tips? go into the air-conditioned department stores and catch your breath there. Bangkok's skytrain, subway and numerous taxis also offer coolness.

BUSES
Thai buses are many and they are cheap and just as comfortable as those in Europe. Baw Kaw Saw, the state-owned bus company, represents the safest and most reliable bus journeys - always start from the city's bus station. Air-con buses, root air, is best if you go on the day. Efficient air conditioning, tinted glass, padded and adjustable seats. Your luggage will travel safely in the judgment special baggage compartments. VIP buses are best for night time trips. These have been armchair-like seats and service aircraft. Wrap yourself in the blanket to protect you against the effective air conditioning is available on the buses.

DRUGS
Beware of drugs in Thailand, they have initiated a very hard war against drugs. 2500 people were killed under mysterious circumstances at 2003. The penalties are very very hard. Many travellers tests harder drugs on Ko Pha-Ngnans full moon parties or other sites. The result is often disastrous, or in worst case, crazy hospital in Surat Thani! Remember that it is death penalty on drug trafficking in Thailand!

ELEPHANTS
There is no animal you associate with Thailand as much as the elephant. A century ago there were wild elephants in Bangkok's city limits. In the 1900s, the jungle shrank considerably. And the populations of elephants in Thailand went down. Now there are only 2000-3000 elephants in the wild and there are about 5000 elephants tamed and used for forestry or at excursions.

HOMOSEXUALITY
Thailand is tolerant of homosexuality, it is forbidden by law to discriminate against gay and transgender people. Transgender people (mostly men redoing themselves into women) are common, accepted and in many cases also very popular. They are known as the ladyboys, or in Thai Ka-thoy. Going hand in hand, man and man, or woman and woman, do not get anyone to significantly lift the eyebrow. In Thailand, it is very common to do so regardless of whether you are a couple or not. It is simply a way to show friendship and that they like each other.

Thais appreciate if you greet respectfully
Learn how to greet Thai style, you show great respect and get respect back. On your journey through Thailand you will on several occasions be greeted with two hands against each other. Youdo it the same way as the Swedish Lucia by putting your hands together and a dignified bow. The greeting is called wai and is a Thai tradition. Wai is a simple form of body language and is used in many contexts in Thailand as greeting, to show respect, or as an excuse. Hello comes in three levels. First level is the greeting to the Buddha and Buddhist monks. When you put both palms against each other so that you touch with your fingertips on your forehead. Your arms should in all levels greeting pressed against his own body. Second level is a greeting towards older people, then put your palms together so that it is pointing in the nose. The third level, then the palms pointing toward your chin, is used to greet the same age or younger. But do not add too much time to think about who is older or younger, it is important that you show that you really want to greet them. If you are greeting this Thai way when you meet other people, as you say Sawadee (which means hello in Thai) or when you want to thank for something while saying khob khun ka (thank you, if you are female) or khob khun krap (thank you, if you are a man), you can count on a bow back, and lots of respect.

INSECTS
Malaria is disappearing from Thailand. Few visitors gets it. The risk is greatest in the jungle area at the border of Burma and Cambodia (eg, Ko Chang), there is greater risk during the rainy season. Malaria mosquitoes are more active after dark. Dress in long sleeves, long pants and insect pins (Buy Thai mosquito spray) helps in the evenings. Use mosquito net when sleeping. Malaria Pills bites on certain types of malaria, but it is not recommended by the malaria centre in Bangkok. Dengue fever is caused by the mosquito, which is active during the daytime. Insect repellent and long sleeves is the only insurance against dengue. Always buy mosquito spray in Thailand when our Swedish pin or mosquito spray does not help against the active mosquitoes in Thailand.

RAILWAYS
Although collective bus trips are most common, Thailand's railway map is large and resembles a sloppy woven spider web. Still, it works fine. You can go all the way to Surat Thani and Hat Yai in the south, to Nong Khai on the border with Laos, to Kanchanaburi in the west and mountain parts of the north. The trips are comfortable and cheap. Trains in Thailand is additionally safe. The speed is so low that you have time to see the details and capture the landscape shifts. Travelling by night train from Chiang Mai to Bangkok is a favourite for many. Train attendants were walking around and serving noodles and drinking. You fall asleep to a tropical night and wake up to the Chao Phraya river green light, buffalos, paddy fields and circling storks.

COSTS
Thailand is a cheap place to live. Live simply in the countryside and you can get by on 150 skr (approx 15 eur) per person per day. Pay twice the price and you live really good, maybe even a little luxury. Single room in a simple middle class hotels priced from about 100 skr, dinner at the food market about 20 skr and a five-hour bus ride costs about 60 skr. Bangkok is about twice as expensive as the countryside. 250-500 skr per day is a reasonable tourist budget.

SOFT DRINK
Thai soft drinks contain more color than the whole of Disney's overall production and your tongue will be in the same colour as your soda. In Thailand, often served soft drinks in plastic bag with ice, rubber bands and straws (the vendor wants to keep the bottle for the recycling-fee). Purple Fanta tastes like candy, red Fanta tastes sweet and green Fanta tastes like the chewing gum "bugg".

FOOD
Many love Thaifood and one really would be able to travel to Thailand just for the sake of food. The kitchen is among the world's best. Strong and spicy mixed with soft and acidic. In some miraculous way the flavours complement each other and give small dishes exciting shades instead of choke and dominate. Shrimp always tastes shrimp, chicken always tastes the chicken, not just strong and hot. Please go to the Town Food Market and test your way and find your favourites. There are cheap and tasty Thai cuisine. Some favourites: pad thai, noodle "pytt-i-panna", often with fried eggs, shrimps, sprouts, crushed peanuts and chili. Khao phat, common lunch, rice, spring onions and other veg with prawns, ham or chicken and eggs often. Kaeng Khiaw-Waan berth, green chicken curry. Tom Yam Kung, Thailand's national soup, sour and mercilessly hot with shrimp, lime, mushrooms, lemon grass and fresh spices.

NATIONAL PARKS
Thailand has 112 different national parks. Many of them are kept secrets. All are worth a visit. Several of these parks have an information centre, walking trails, food and simple accommodation. Tiger Jungle Khao Yai, Sai Yok, Thale Ban rainforest, Similan, Tarutao and Kaeng Krachan belong to Southeast Asia's finest parks.

SNAKES
Thailand is snake-rich with King cobra, python and krait. All of these species are found in Thailand. But you probably will not see any snakes, unless it has rained a lot, then you can see the occasional run over snake on the road. They do not really like people and buildings unless you are really looking and get lucky.

MONEY
There are plenty of ATMs that accept both Visa and MasterCard, but Thailand is the land of cash and it's great if you switch to Thai Baht at home so that you're coping the first few days. Bring U.S. dollars in cash, and any credit card. All cities have ATMs with comprehensive instructions in English. Exchange or withdraw money during your stay.

RABIES
Rabies exists in Thailand. A few years ago a young Swedish woman died after a trip to Thailand. Avoid dogs, avoid cats and monkeys. Do you get bitten or licked on a wound, there are vaccines at the hospitals. Painless, simple and absolutely vital.

SAFETY
Thailand is a friendly country, but a country with enormous differences in the peoples income and the unemployment is high. Violent crimes are rare. Thefts and pickpockets are more common. Especially during night time trips, at bus stations and airports. Also watch out for credit card fraud. Always keep your card under review and examine receipts. The hotels' safety deposit box is not always one hundred percent, particularly if you store credit card here. Traffic in Thailand is fast and can be experienced by us Swedes as ruthless, unfortunately the Thai traffic caused many deaths. Especially motorbike accidents harvests annually Swedish tourists' life. It is discussed that the death of a person in traffic every hour in Thailand. Therefore, you should move carefully in traffic. Remember that if you are involved in an accident it is your fault, no matter if it is not so you are to blame! It can be expensive! The absolute best way to protect yourself is to avoid driving a moped or car in Thailand.

Thai boxing
Rituals, music, and tough fighter that belongs to Thai Boxing. Buy tickets directly at the stadiums so you avoid being scammed. Most genuine and exciting is Lumphini Boxing Stadium on Rama IV Road just east of Lumphinipark in Bangkok. Tickets cost 500-1500 baht, depending on location. Tuesday, Friday and Saturday are off days. Want to buy your own boxing bag it can be found at Lumphini Stadium. The second of Bangkok's classic stadiums are Ratchadamnoen Boxing -Stadium, located not far from Khao San Road and the Democracy Monument. The address is Thanon Ratchadamnoen Nok. Monday, Wednesday, Thursday and Sunday are off days. Tickets cost 500-1500 baht, depending on location. Avoid Sundays when it is most tourists visiting the boxing match.

Underwater in THAILAND
To scubadive or to get certified is popular in Thailand. Dive centres are basically everywhere where there are sea and tourists. The island of Koh Samet in the Gulf of Siam is popular by Swedes who wants to dive. Scandinavian Dive Zone in Mae Phim is a popular diving school and organizes diving courses and dives in the area of ​​Rayong.

Conduct IS IMPORTANT
Respect Thai and Thailand! Thai people have great respect and love of the royal family. Never criticize the country's monarch or the royal family. Current king Bhumiphol has birthday on 5 December. Avoid shorts and linen if you visit the temple, avoiding the bikini and swimwear in cities. Buddha statues and other religious objects are sacred. Never ever pat someone on the head, never point towards someone with your feet. If you follow these instructions, you will get very far in Thailand.

Visa regulations
Swedish citizens receive on arrival to Thailand automatically a free 30-day tourist visa. This can be extended by 10 days in the country. Want to stay longer, you should apply for a tourist visa at the Thai Embassy. This is valid for 60 days and can be extended by 30 days in Thailand. People that wants to stay longer usually cross the border into Cambodia to start over on a new visa in Thailand. Read more under visa.

ZOO
Bangkok has a zoo and it's called Dusit, with 1300 species of animals and artificial lake. Well worth a visit.

BEER
Three beers dominate. Singha, Leo and Thai elephant beer, Chang is tart, summery and easy to drink. Perfect for spicy food, perfect for tropical climates. Chang recalls Danish Elephant beer. While Singha is an easy drinking beer and Leo is of the same character.