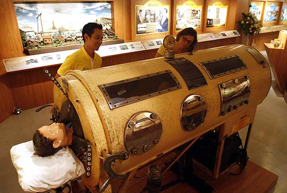 Bangkok Medical Musem approx. 20 000 annual visitors

Bangkok Medical Museum was originally a meeting place for medical students in Bangkok. The museum has become known for its nasty photographs from homicide and accidents. This museum is nothing you should visit if you have difficulty seeing the "nasty" stuff says the museum director.

The museum brings out the dark side of Thailand and portrays it in a way that is far away from the swaying palm trees and long sandy beaches with a drink in hand.

You can find mummified serial killers, deformed foetuses, split up human heads and more .. The museum is a magnificent combination of supernaturtal tradition and Buddhist compassion.
Where is Bangkok Medical Museum