Nakhon Ratchasima eller Khorat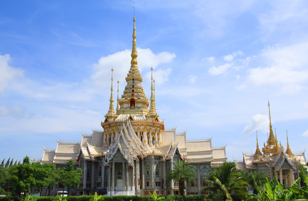 Nakhon Ratchasima is the official name of the town, but colloquially YR Thailand Residents called the Khorat or as Thais put it "Koolat" The city is very important for Thailand which many large industries are located here. During the Vietnam War in the 1960s, the city began to grow as the royal air station came to be used as a base for bombing in Indochina.
Although the city is large you can at the night market experience the countryside for province's special atmosphere. On the streets between Thanon Manas, Thanon Mahadthai and Thanon Jompol can from early evening approx pm. 18:00 See all vendors coming, many will still come in bicycle taxis. Even cars and bikes and all incoming vendor shall load and unload their vehicles for a few hectic moments. Market then starts at 19:00 and will be open until midnight. Take the opportunity to buy Sticky Rice (Finger rice) and chicken is always good.

On the city's hotels there is entertainment several times a week, with music song and dance from Isaan.

Pathongchai
Just 30km from Khorat lies this village where weaving of silk is the main job. Here in the village produced Thailand's finest silks and many of the shops in Bangkok selling silks have their factories right here in the village. Here you can see how the silk is processed before it is woven in all the wonderful colors and patterns. In Kohrat sold silks in blue. in business in Chumphon and Chakkri Road. You can ride the bus to Pathongchai leaving every half hour from Nakhon Ratchasima and make the visit any time during the morning.

Khao Yai National Park
Thailand's first national park called Kho Yai and is 200km northeast of Bangkok and in between Khorat and Bangkok. The national park is also Thailand's largest, with its 2,100 square miles. Here are five different vegetation zones and a variety of animals. If you are lucky you can see or hear sounds from wild elephants, tigers, leopards, monkeys, bears, wild boars and deer to a large variety of exotic birds. The park has both mountains and gigantic waterfalls and a lush park in deep rain forest and a great variety of plants. The biggest waterfall in the area is Haew Narok with his straight fall of 50 metres is impressive to behold. In 1933 there was 8 young elephants that was taken by the falls strong current when they were crossing the river. Now it has higher security along the roads that elephants tend to go on and this makes them pushed further away from the dangerous spot. It does not look particularly beautiful, but once you know why it sits protection it is easier to accept.

The park is a wonderful place for anyone who loves to enjoy the Thai nature at very close range. During the day you can hike in the park and in the evening there is the opportunity to ride with cars that are equipped with a special light that does not disturb the wildlife in the area.


Visiting Khorat, Nakhon Ratchasima and Khao Yai National Park
You can travel to Nakhon Ratchasima or Khorat with both air and train. Domestic flights Thailand you can book from home. You can also travel by bus from Bangkok to Khao Yai National Park as it is located half way and only 200km north of Bangkok. Buses leave frequently from Bangkok's bus terminal to Khao Yai National Park.
Map Nationalpark
Khao Yai