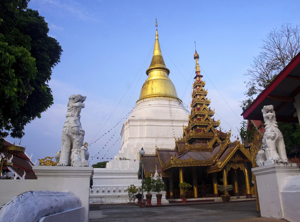 The city of Lampang is 100 km southeast of Chiang Mai and is most famous for its elephant camp. However, it is a charming city that still has horse-drawn carriages as part of the cityscape. You can rent a horse carriage to take you around town Lampang. Take the opportunity to take a trip along the river, which is a relaxing experience.

Wat Phra Keo Don Tao is the town main temple which is built in a beautiful Burma and lannstyle, and it was here that the famous Emerald Buddha had his place in the entire 32 years between years 1436-1468.

You can fly domestic to Lampang Airport with Bangkok Airways from Bangkok's Suvarnabhumi airport. The journey takes approximately 1 hour.