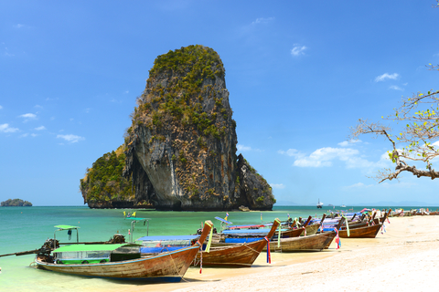 Krabi is located 70 mil east of Koh Phuket, it is calculated on a straight line. Lansdscape is fertile and characterized by rubber plantations, jungle and somewhat amazing rock formations from the massive limestones. The rock formations have been given names such as "The Cat" "The Mouse" and "bird" Krabi's history marked by smugglers. Whiskey and cigarettes from Malaysia and Singapore was smuggled in here, but this traffic has stopped. But some is still going from countries in Southeast Asia.

The area is today a developed and well-attended by sun worshipers, perhaps because there are plenty of lovely lagoons and good beaches and all the little paradise islands that stretch out. Krabi is located approximately 1000km south of Bangkok and has its own airport which it is possible to travel home to Krabi. The place is a good starting point for further travel to Koh Lanta to the south and Koh Phi Phi to the southwest or west toward Ao Nangbeach.

From Krabi you can ride both minibus and tail boat to the famous Ao Nagbeach and the other beaches in the area. Want to experience other smaller islands around Krabi as there are opportunities to do so with Logtailboats. Ao Nang beach is the most visited beach and you will find many good restaurants in various price ranges. There is also plenty of accommodation in various forms, let your wallet decide where to stay.

Hat Tham Nang Praha is probably the most beautiful beach in the area with palm trees and small shrubs. A large limestone cliff provides shade from the scorching hot sun on one side of the beach. The cliff is a cave called Tha Nang Prha Nag Nok but popularly called "princess cave" The name of the cave comes from the residents when they believe it to live a sea princess there. Just the princess is according to legend, unpredictable and to access her favour you must sacrifice fruit incense and garlands to bring out her true self and this should be done at the small spirit house at the entrance of the cave.

Wooden figures representing phalluses standing in front of the entrance that guarantee safety of sea travellers and fishing luck. The fish will still come here to get their wishes fulfilled or to demonstrate gratitude for the great catch.

Attractions:
Horror Cemetery, one of Thailand's most remarkable attractions are approx 20km west of Krabi and must be visited in the early morning while it is still low tide. This is the famous cemetery of sea shells and many other fossils from the sea. There are fossils from 75 million years back in time. Full Krabi is characterized by numerous shells and look but do not touch.

The National Park Tham Bokkharani is about 50km north of Krabi and the park is well worth a visit mainly when the rainy season is over when it is green and lush its absolutely amazing, one of the highlight of the visit may be a dip in one of the jade-green waters that occur in the caverns. This is a place that Thai people love to visit at weekends and holidays.


Transporting to Krabi is by both plane and bus, are you taking the bus it will take all night to travel from Bangkok to Krabi, while the flight only takes an hour. Domestic flights to Krabi you can find and you can order airline tickets both from home and on location in Thailand.