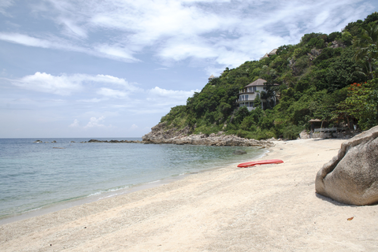 Koh Tao is a small island of just over 21 square kilometers of the island where the population barely exceeds 1,000 people mainly living from fishing and coconuts. at the beginning of the 2000s, many began to work as a diving company as the island invites you to great scuba diving opportunities.

You are traveling to Koh Tao by boat from Koh Samui. The trip takes from 4-6 hours depending on the type of boat you are traveling with. Regardless of which path you choose, you arrive to the largest of the island's three cities, Ban Mae Hat. Here you can switch money and perform its other tasks. To transport around the island is usually done with pick-ups on the relatively poor roads. It is also possible to transport by boat between the beaches on Koh Tao.

Swimming opportunities on the island is not as good on Koh Samui when you have to look out for the coral. On the other hand, here are some of the best snorkeling and diving sites in the whole of Asia, it is because the water around the island is virtually crystal clear, coral is beautiful and it will swim many colorful fish around the legs when you dive. If you have not tried diving before, it's a great experience. Equipment for scuba diving, you can rent on site or join the many guided tours.

The beaches on Koh Tao
mango bay has great scuba diving opportunities, and affordable housing opportunities. Leukbukten is beautifully situated at the attractive cliff, the site is the most popular on the island. Here you will also find accommodation at great prices.

Diving on Koh Tao
The island is best known for its scuba diving, there are plenty of guided tours and equipment are available for rent all around.

Transportation to Koh Tao
You can travel flying to Kho Samui or Surat Thani, from where there are buses and ferries to Koh Tao. Domestic flights in Thailand, you can book from home.