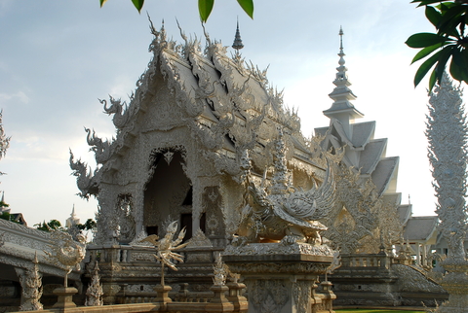 Chiang Rai is about 100 km north of Chiang Mai on the banks of the Mae Kok river and the city is located 580 meters above sea level.

The city was founded in 1262 by King Merai when he expanded his territory to the north out of the headquarters in the city of Chiang Mai. Chiang Rai was quite peculiar to the king when on one occasion his favourite elephants that had escaped was catched and brought back in the city of Chiang Rai.

The city is still a small quiet town of provincial character. You have time to explore the city on foot or by one of the city's bicycle taxi, which is still a very well-used means of transport here. The town's clock tower stands in the middle of the main street roundabout and to easily guide you to where you are in the city. The city is beautifully situated next to the Mae Kok River and surrounded by the lush mountains, here you will find both night bazaars and a small fine morning market. But changes happen all the time now it has been built homes for wealthy Thais experience as cooler and more beautiful than other parts of Thailand. Today, both the airport and golf course and landscaped adjacent to the town. The airport is called Mae Luang- Chiang Rai.

Tourism in the city is growing stronger, especially when it is suitable as a starting point for various wilderness activities and tours in the wilderness. Around Chiang Rai you will find indigenous peoples in the form of Yao, Lisu, Meo, Lahu and Karen tribes. Do you take a boat trip on the 13 mil long Mae Kok River that flows through the city to get other views from the town. It is both cheap and easy. Chiang Rai is or will be developed to become an attractive place for tourists and then maybe Europeans who enjoy the local atmosphere.

In the past, Chiang Rai, a town you only travelled through on the way to other places, now it has been built hotels and restaurants popping up as time goes by and the proximity to Myanmar, China and Vietnam and Laos gives the city even more opportunity to grow bigger. Chiang Rai is only 70 km south of the famous Golden Triangle.

It is possible to fly to Chiang Rai with domestic flights from Bangkok. Flight time is approximately 1 hr. You want tickets for flights to Chiang Rai, you can buy these from home.

If you need to fly from Bangkok to Chiang Rai, you can also find airline tickets at bargain prices.